Bitdefender Antivirus Solutions
Join the millions of computer users worldwide who trust Bitdefender's award-winning antivirus software to keep their PCs, data, and identities safe from attack. Bitdefender antivirus solutions provide state-of-the-art, proactive protection from e-threats, including online banking attacks.
For Home
For Business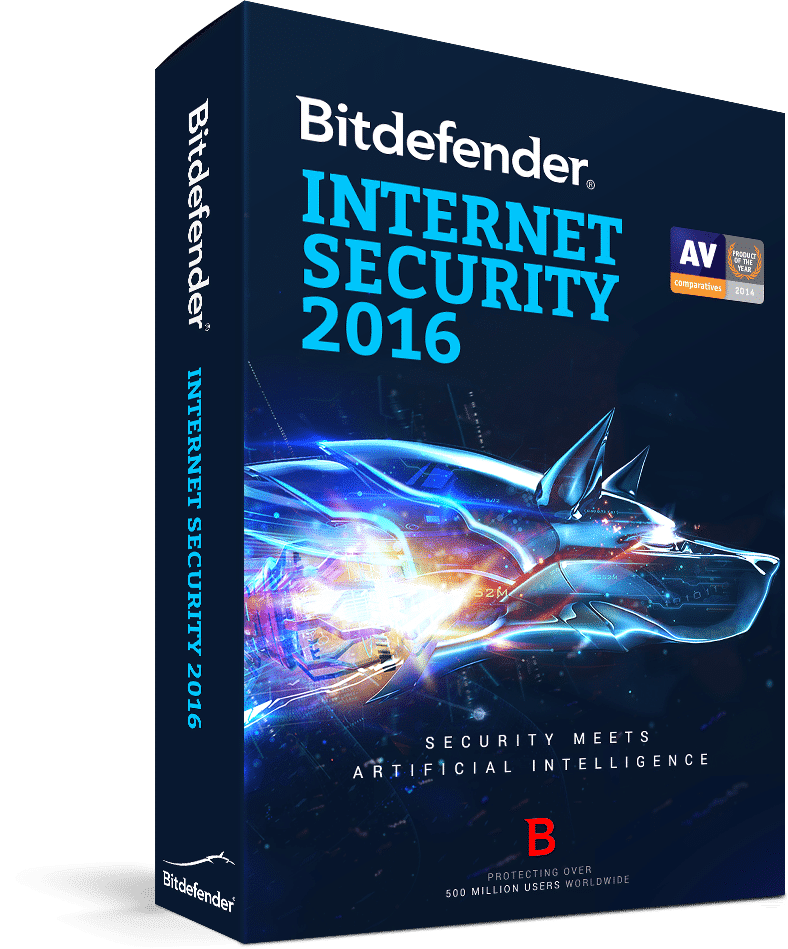 INTERNET SECURITY 2016
Best Protection. Best Performance. Easy To Use.
Best Internet Security Against Cyber-Threats. Official PRODUCT OF THE YEAR
Zero Performance Impact – GOLD Award for Fastest System Speed.
OneClick Security. Automatic protection, with zero questions asked.
Prevent Unauthorized Access to your Private Data. Two-Way Firewall.
Keep your Kids Safe. Monitor Their Activity. Discrete Parental Control.
Windows 10 Compatible
Bitdefender Internet Security 2016 is the most powerful internet security software today.
It builds on technology awarded PRODUCT OF THE YEAR and uses machine-learning to fight off cyber-threats without impacting your device's performance. It automatically takes the best security decisions for you, including securing your data, online payments and privacy. It also prevents unauthorized access to your private information with a two-way Firewall and discreetly guards your children online.
A Powerful Protection Package for Your System
Complete Data Protection

Bitdefender's powerful technologies eliminate even the most dangerous e-threats today. Bitdefender Internet Security 2016 blocks everything from traditional viruses, worms, and Trojans to ransomware, zero-day exploits, rootkits, and spyware.

Active Threat Control

Behavioural detection technology that acts as an additional protective layer by constantly monitoring active programs and tagging suspicious activities.

Ransomware Protection

Bitdefender Internet Security 2016 blocks all ransomware, even new or unknown, from encrypting and demanding ransom on your personal files. You can choose which areas you want to protect.

Firewall

Bitdefender's new firewall deals superior performance in pinpointing intrusions, effectively filtering incoming and outgoing traffic, even over a Wi-Fi network.

 Bank Online Without Worries

Make online transactions from a unique, dedicated browser that secures your accounts from fraud. Bitdefender Safepay™ can now also automatically fill credit card details in billing fields.

Rescue Mode

For e-threats, such as rootkits, that cannot be removed from within the Windows operating system, the computer is re-booted in Rescue mode for cleanup and restoration.

Powerful Anti-phishing

Sniffs and blocks websites that try to steal financial data such as passwords or credit card numbers by masquerading as a trustworthy entity.

Sensitive Anti-fraud

Warns whenever you visit websites that pose potential fraud risks such as casino, porn, money loans and many others.

Secure Browsing. Safety Marks.

Learn if your Google, Yahoo and Bing search results are safe before you actually click a link. Bitdefender Internet Security 2016 also blocks access to infected links that you have already clicked.

Weekly Security Report

Bitdefender Internet Security 2016 is always silently active in the background, blocking new malware and removing infections. Every week, we send you a summary.

Discreet Security Widget

Enables you to keep track of all of your security-related tasks, plus lets you quickly and easily drag-and-drop files for quick scanning for viruses — right from your desktop.

Remote Management

Remotely scan and fix security issues on all of your Bitdefender-protected devices from anywhere, using Bitdefender Central.

USB Immunizer

Immunizes any Flash Drive from viruses when they're connected to your computer so you never worry again about USBs infecting you or your friends.

Social Network Protection

Bitdefender Internet Security 2016 blocks malicious links or e-threats you passed on from your friends on Facebook, Twitter, Pinterest or any other social network.

Password Manager

Bitdefender Internet Security 2016 stores your passwords, credit card data and other sensitive in a secure vault. It also autofills them when you brows and can recommend you secure passwords.

Parental Advisor

Blocks inappropriate content, and notifies you when you child attempts to bypass your rules. Also monitors restricted areas and informs you when your child is where he isn't supposed to be, via an Android app.

Antispam

Stops unwanted e-mail from reaching your Inbox, now fully based on Cloud technology.
Business Security
Powerfully Simple. Ideal for Small Businesses.
Business antivirus and antimalware consistently ranked first in independent tests.
Easy to install and monitor security remotely from a single cloud console.
Cost effective: includes server and desktop protection, intrusion detection and web filtering capabilities.
#1 ranked antivirus and antimalware technologies
Using constantly upgraded detection technologies Bitdefender is able to catch advanced or 0-day threats that other solutions miss, all the while having the smallest possible impact on system performance.
You can stop worrying about infections or slowdowns
Using Bitdefender security gives your business the edge over malware attacks. You can focus on your business knowing Bitdefender protects you against viruses, spyware, worms, trojans and rootkits.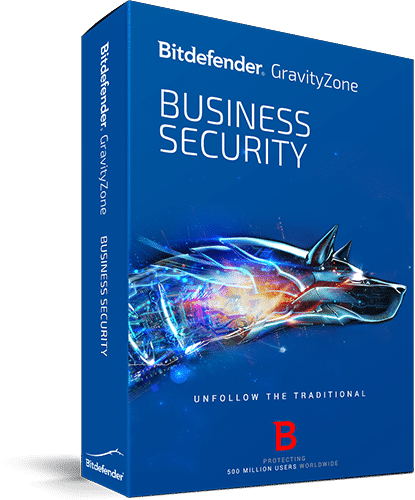 GravityZone Business Security
Unique Technologies
Global Protective Network
Bitdefender's Global Protective Network (GPN) performs 7 Billion queries per day, and uses reflective models and advanced machine learning algorithms to extract malware patterns, ensuring real-time protection against any threat.
Bitdefender Endpoint Security Tools
Bitdefender Endpoint Security Tools is a single package that protects physical and virtual machines. It detects the type of system it is installed on and adjusts to deliver optimized performance for that particular environment.
Bitdefender Photon™
Bitdefender Photon™ optimizes the scanning process by examining unknown, suspicious, or modified files. It adapts to each computer as it scans files, learning individual usage patterns and determining which applications to scan or not.
Extended Features List
Antivirus and Antimalware
Signatures, heuristics, continuous process monitoring and a global threat intelligence network.
Two-way firewall with Intrusion Detection/Prevention
The fully-featured two way personal firewall with Intrusion Detection is essential in blocking intrusion and hijack attempts.
Search Advisor and Web Filtering
Potentially harmful websites are marked in the search results and known malicious pages are blocked.
Data Protection
Prevent the loss of confidential data by setting filters that will block the transmission of sensitive information.
User Web and Application Control
Restrict or block employee access to applications or web pages.
Power User and Restricted User Modes
You can choose to allow or deny users the ability to modify security settings for their system.
Remote and Local Quarantine Management
The quarantine is stored locally but can be managed centrally from the control console.
Security Policies and Nested Computer Groups
Assign security policies to companies or groups of computers.
Multilanguage Support
The solution is available in English, German, Spanish, French, and Romanian.
Real-time Control of Remote Users (Cloud Console)
With the Bitdefender-hosted management console you can control and monitor remote users in real time.
Network Discovery and Mass Remote Install Option
After you install Bitdefender on one computer, unprotected systems are automatically detected and you can remotely deploy protection to all of them.
Role-based User Model
Internal accounts with different access privileges can be created in the management console.
Plug-and-play Console Deployment (On-Premise)
Using a pre-configured virtual appliance installation means the console can be up in 30 minutes, not hours or days as with other solutions.
Instantly Available Web Console (Cloud)
With Bitdefender hosting the management infrastructure, the web console is available right after signup.
Device Control and USB Scanning
Minimize risks of infections and data loss with automatic USB scanning and device control.
Removal of Competitive Solutions
During installation, Bitdefender detects competitive solutions and starts the uninstall process.
Endpoint Security Relay
Product and signature updates can be distributed more efficiently inside the network through a system that works as a relay.
Audit Logs
Actions performed in the management console can be tracked in the audit logs.
Email Notifications
Set up email notifications to be triggered automatically when certain events occur.
Monitoring Dashboard and Reports
Centrally monitor the security posture of the organization using on-demand or scheduled reports.
Need Bitdefender for Your System?